Compact or Viewfinder
This is where it all began, with the Agfa Silette Pronto 1, below, to be precise. Although I did have a couple of old cameras, like the Trip, the idea of starting a collection didn't come about until I bought the Silette. After I had been out with it and realised what results could be achieved with this simple camera I was hooked. What was more exiting was that I could pick up these cameras for very small sums of money, a far cry from when they were new. When I first got interested in cameras and photography, back in the 1960s, earning £5 10 shillings a week, that Silette would have been more than a months pay.
The list of cameras below is a listing of Compact Vintage or Classic cameras which are either currently in my collection or have been used to provide the sample images and have been moved on or pensioned off.
Note: Where it says Untested this usually means "in the field". All cameras are checked for mechanical efficiency when they arrive and any maintenance carried out before they can be used in the field.
| | | |
| --- | --- | --- |
| Camera | | Status |
| Adox Polomatic 3S | | Fully Operational |
| Agfa Optima Sensor | | Untested |
| Agfa Silette Pronto 1 | | Fully Operational |
| Agfa Silette Pronto 2 | | Fully Operational |
| Agfa Silette Vario | | Fully Operational |
| Agfa Silette Series1 SVS | | Untested |
| Agfa Silette Series2 SVS | | Fully Operational |
| Agfa Silette LM Ser1 SVS | | Fully Operational |
| Agfa Silette LK Sensor | | Fully Operational |
| Braun Paxette | | Fully Operational |
| Balda Baldessa | | Fully Operational |
| Cosmic 35 | | Untested |
| EMI K35 | | Fully Operational |
| Franka 35 | | Fully Operational |
| Halina 2000 | | Untested |
| Halina 3000 | | Fully Operational |
| Ilford Sportsman 1 c.1957 | | Fully Operational |
| Ilford Sportsman 2 c.1959 | | Operational |
| Ilford Sportsman 4 c.1963-1965 | | Fully Operational |
| King Regulette | | Untested |
| Kodak Retinette 1 | | Fully Operational |
| Kodak Retinette 1a | | Fully Operational |
| Kodak Retinette 1b | | Fully Operational |
| Kodak Retinette 2 | | Fully Operational |
| Mastra 35 | | Untested |
| Olympus Pen EE | | Fully Operational |
| Olympus Trip 35 | | Operational |
| Pacemaker 35P | | Fully Operational |
| Pentona | | Fully Operational |
| Prinz Mastermatic 111 | | Fully Operational |
| Rollei B35 | | Fully Operational |
| Voigtlander Vito 1 | | Fully Operational |
| Voigtlander Vitoret D | | Fully Operational |
| Wirgin Edixa 1 | | Fully Operational |
| | | |
| | | |
| | | |
Website hosted by obscura135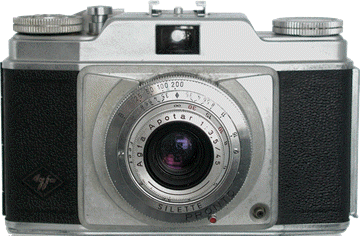 ©35mil Plus all rights reserved