The Collection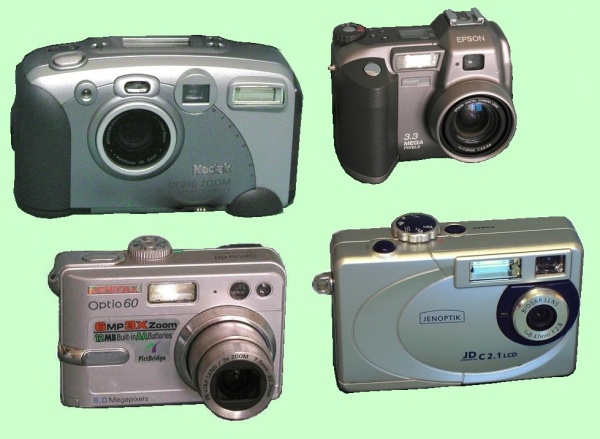 Digital imaging has been with us at a domestic level since the introduction of the Kodak DC40 in March 1995. This was a fixed lens device capable of capturing images at 756 x 504 pixels, that's approximately 0.4 megapixel. There was no removable media so it needed to be connected to a computer to upload the pictures and clear down ready for the next time. Sadly, I don't have one of these...yet. We've moved on a bit since then and the popular compacts are now commonly 10mp plus.
<>
In addition to the main collection pages I have produced a number of specials.
a guide to buying used digital compacts
Covering the C2000, 3000 and 4000 which I have used constantly through the website
2 sets of 12 roses taken for my calendar projects
Follow the link and you will find out
The technical side of adapting old folder lenses to your DSLR
Welcome to the all new digital section.
<>
As there have been classics in the past so there will continue to be classics in the future, but, as with film, there will also be a huge number of average cameras which over time will disappear without trace. This collection has a number of these and includes some which you may never have heard of.
<>
This is a small but steadily growing collection of "average" cameras starting with the 1 megapixel Kodak DC215, and with the exception of my Pentax DSLR none of these units cost more than £30, most considerably less. The galleries illustrate the performance of these early units and, hopefully, help to explode the myth that more megapixels make better pictures.
<>
The heck with it I'm going back to film